This article has affiliate links, which means I receive compensation if you purchase a product through this link. There are no additional costs for you. It helps me continuing this blog. Thanks for your support! Visit my disclosure page for more information.
The attentive audience of the Monte Carlo 2015 Masters noticed a change in Rafael Nadal's game. He changed his racket. Yes, his racket (!) and did not just switch to a newer paintjob. The Babolat AeroPro Drive 2016. That's how everyone called the racket at first but Babolat changed the naming of the racket to fit better into their system. Later on it was name Pure Aero! You can buy it here:
Rafa confirmed his racket change. He thought about it for while and hoped to get more spin and power. This is very interesting since this almost always results in less control opposing Rafas playstyle.
"It's always risky when one changes things, but I like this [new] racket and I'll keep on playing with it."
"I've been using it since I came back from Miami. I wanted more spin and power."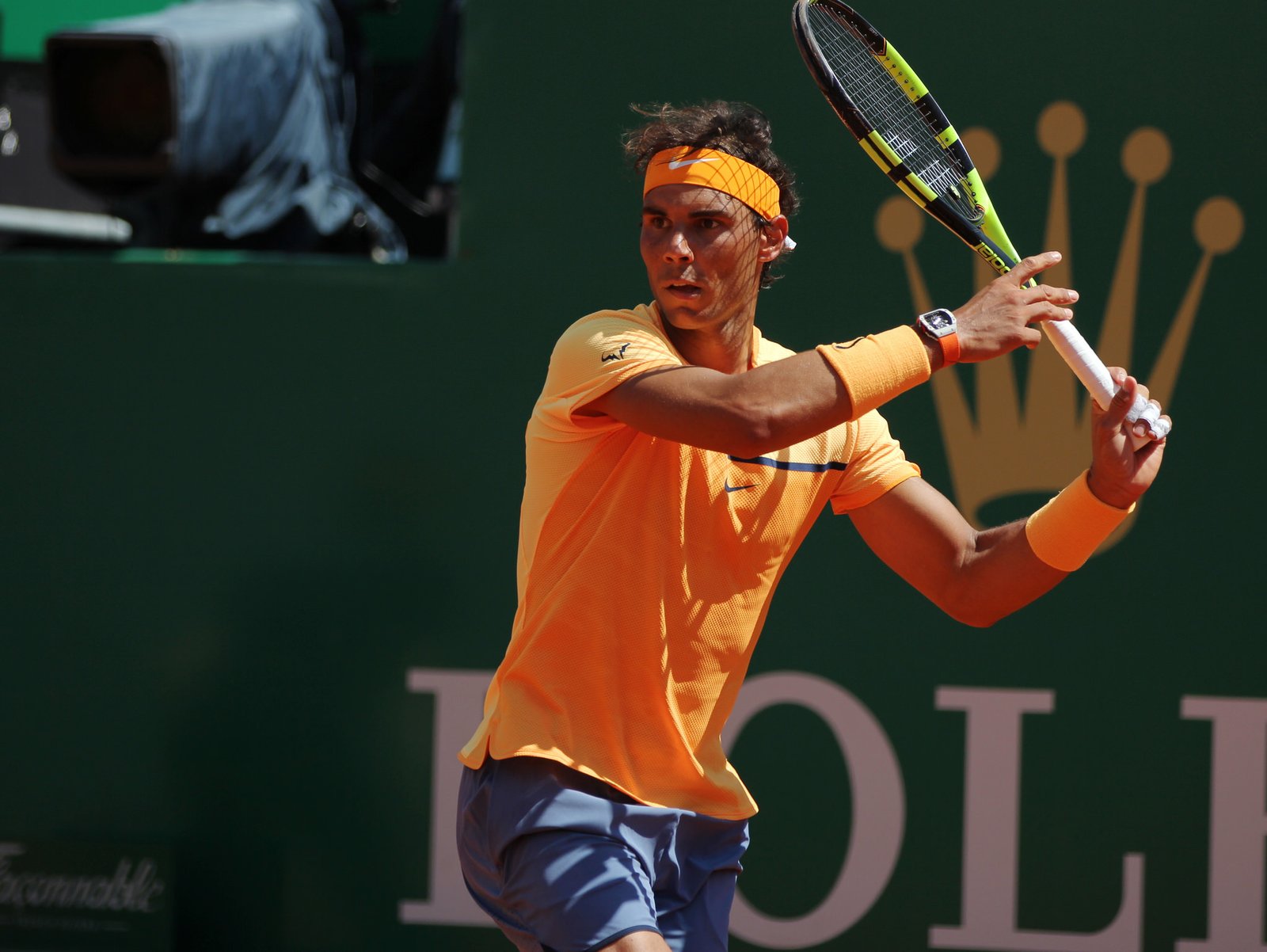 What racket does Nadal use 2016?
The racket Rafa is using in late  2016 (August) is still called the Babolat Pure Aero which can also be called Babolat AeroPro Drive 2016. There hasn't been any update on the racket of course since Babolat only updates their rackets every 3 years.  You can read a whole new article dedicated to this wonderful racket here.
Is the Babolat AeroPro Drive 2016 the Pure Aero?
YES! It's official called Pure Aero. It's not the Babolat Pure Drive 2016 or anything like that. We all know that Rafa has always used the original AeroPro Drive from almost 10 years ago painted with the current colors for advertising purposes. After the tournament in Miami when Rafa returned at home in Manacor on Mallorca he started practicing with a blacked-out Babolat AeroPro Drive 2016 with red/orange stripes. Bye Bye AeroPro Drive
If you look closely at the racket you can see that it is not simply the Babolat AeroPro Drive Play or 2013 with a blacked-out frame due to the technical specs of the racket. This is how the racket looked when it wasn't officialy released. It has different drilling patterns and seems to use the same new technology as the Pure Drive opening up the string pattern. Why? Because spin! A wider distance between the strings means more spin. Rafa also stated this in an interview. "I wanted more spin and power." Scaaaary.
Where can I get the Babolat AeroPro Drive 2016?
The Babolat AeroPro Drive 2016 was announced at the Us Open where they also called it the Pure Aero. It is not known to this day if Babolat will ever continue making rackets called "AeroPro". There is a chance that they release "classic" or "original" series where they put the name on the racket.
---
Hey, this might be something for you.
---
Related articles
---
---
Join the FourtyLove community
---