So think about it, if you require a special racket to help you perform at a higher level, or if you require a different pair of tennis shoes because you've got flat feet, you need more support, or if you have Plantar Fasciitis, we can find the shoe for you!
The first wealth is health.Ralph Waldo Emerson
Am I the only one suffering from it?
NO! In fact, did you know that Plantar Fasciitis is one of the most common ailments that hinder tennis players all around the globe? But why is that? And what exactly is Plantar Fasciitis? More than 3 million people are affected by it each year in the US, making it a fairly common ailment, but what is it about the injury that forces tennis players to search for different types of shoes?
What is Plantar Fasciitis?
Plantar Fasciitis is caused from increased stress on the heel of your foot, awkward walking patterns or types of movements, too much weight being distributed on one heel, or even shock or impact on the heel.
The pain can be quite sharp and excruciating at times, and can last for several weeks if not treated immediately.
BUY NOW
---
2 types of products that help you
If you suffer from Plantar Fasciitis it is very safe to say that the right tennis shoe will help you out and we would always recommend you getting new tennis shoes first.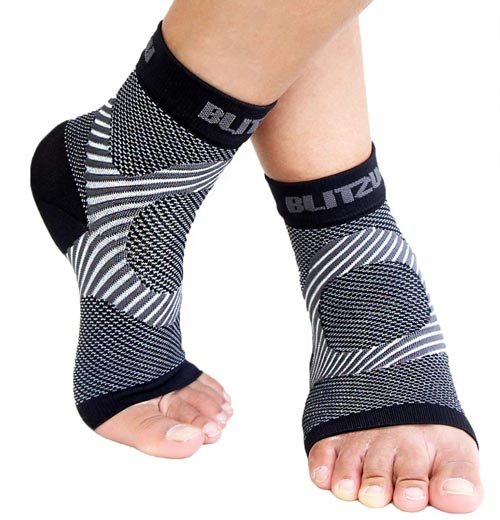 Nevertheless we have to mention the other type of product that helps you too. The ankle support sock. It is definetly worth testing with or without a new tennis shoe. We recommend this sock by BLITZU.
3 Things To Keep In Mind About Plantar Fasciitis
If you do end up feeling some pain in your heel after a hard-fought tennis match, keep these three things in mind!
Self-treatable

Plantar Fasciitis is typically self-treatable – with some rest, some cold and hot compresses, and some extra attention paid the next time you take a step, your Plantar should heal itself naturally over time.

Doctor

You'll rarely have to make a doctor's visit, unless the pain is so severe that you're afraid you may have broken something.

Not alone

You're not alone! Remember, Plantar Fasciitis affects 3 million people every year!
---
Have you had Plantar Fasciitis? Are you familiar with any of the shoes in our list? If so, be sure to comment down below and share your story!