The wrong racquet makes every single stroke harder for you. Therefore it's extremely important, if you want to become a better player, that you know about your strengths and weaknesses to find the perfect racquet for you, your body and style of play.
The best per category
Here are all rackets from our tennis racket test 2023 listed. Clicking on the racket will take you directly to the detailed test.
Here are my top recommendations 👇
#1 for Spin

HEAD Extreme Tour

#1 for Power
Babolat Pure Drive

#1 Allround
HEAD Radical MP

#1 for Control

HEAD Prestige Pro

#1 arm-friendly

Wilson Clash 100 V2

#1 for Women

Tecnifibre Tempo 298 IGA

#1 für Seniors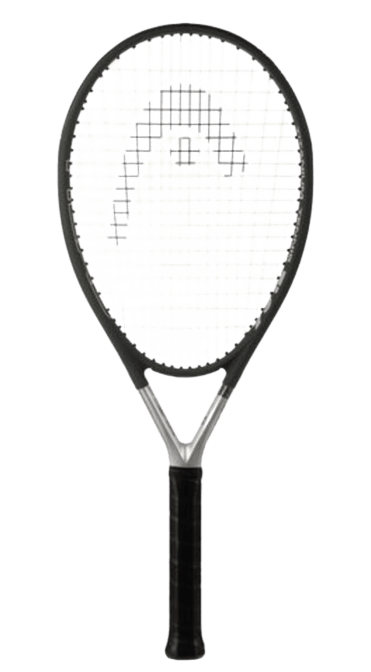 HEAD TI S6

#1 cheap
Wilson Pro Open

In the end, the racket often decides whether you win or lose, and we know what tennis players prefer! 😁
Nowadays, the best tennis rackets on the market are more forgiving and powerful than ever before.
On this page, we'll take a look at how you can find the right tennis racket for you and what the differences are between the rackets.
In the end, you'll be able to weigh up the pros and cons of the rackets and decide for yourself which racket you'd like to try.
3 Types of Rackets
Very roughly speaking, there are 3 different categories that you can put any tennis racket into. There are of course many more subcategories and additional areas that make up a racket, but to save some time here are the 3 main categories:
Rackets for Power
As you might have guessed, "power racquets" help you put more speed and length into your balls without requiring more effort. These tennis rackets are often recommended to beginners, or players who are not technically advanced.
Additionally, these racquets are an excellent choice for small men and women who simply don't have enough strength to generate the power they need. The characteristics of these rackets include: oversized racket head, very long -stiff frame, light overall weight.
Rackets for control
These rackets are for advanced players who know what they are doing, have a good technique and develop enough power themselves. This usually includes rackets with a smaller racket head and frame.
In addition, a racket for advanced to professional players is significantly heavier. It usually weighs around 10.6 oz, but can also be 11.3 oz.
TWEENER racket
The Tweener racket takes its name from the English "in-between" and thus offers an excellent alternative, which can be classified in the characteristics exactly between the control and power racket.
All rackets in comparison
Here are all the racquets that made it into the top 20.
If you click on "go to review" you will find out why I think this specific racket is one of the best tennis rackets 2023. 👇
Am I good enough for these rackets?
These rackets are intended for good tennis players who know what they're doing on the tennis court. If you find the NTPR system sensible, we're talking about players with NTPR 3.5 or better.
They have a good basic technique, can handle more or less every tennis shot, can switch between speed and spin as desired, and regularly play tennis so that their body can handle a somewhat demanding and heavy tennis racket.
If you are a beginner, check this out: The 9 Best Tennis Rackets for Beginners 2023, where every beginner can find the right racket.
Weight
In the list, you will find almost exclusively rackets that weigh more than 10.6 oz. A higher weight may make timing more difficult, but you will be rewarded significantly more with a good hit than you would with a 270 g (9.5 oz) racket.
Racket Head Size
In addition, all rackets on the list have a racket head size of 98 sq in or less. This naturally makes a clean hit in the sweet spot more difficult, but gives the advanced player significantly more precision than a racket with a 111 sq in racket head.
Frame Thickness
The frame should be thinner than 24 mm. A thinner frame leads to significantly more control of the shot, but reduces power, as the frame usually deforms more and "gives way," and power transmission is lost.
However, this reduced power is not a problem for advanced players, as they generate enough speed themselves and do not need the help of the racket, as is usually the case with beginners.
Here is a summary of what makes a racket suitable for advanced players:
Weight: heavier than 10.6 oz
Racket Head Size: less than 98sq in
Length: longer than 27 inches
String Ratio: any possible
Frame Thickness: thinner than 27mm
String: poly, gut
Categories
All the racquets on the list are an absolutely excellent choice for advanced players! They are divided into the categories:
However, these categories are not exclusive. This means that even the best tennis racket for spin will bring a lot of control and perhaps be somewhat arm-friendly.
Now let's get to the important part❗
Which is the best tennis racket of 2023?
Vamos!
The Best Tennis Rackets 2023 for Spin
Whether you're playing on carpet or hard court, but especially if you're playing on clay, you can't do without topspin. 🔄
The forward spin of the ball makes it drop faster, so you avoid playing the ball too long. At the same time, this quick drop also allows you to hit the ball higher than usual, taking the net out of play. ↕️
For the opponent, there is a third very unpleasant effect: due to the forward spin, the ball bounces higher and is often difficult to play back at an uncomfortable height.
It's no coincidence that every professional player on tour plays a lot of topspin. There are practically no disadvantages.
Even a player like Roger Federer, who is not necessarily known for his amount of topspin, unlike Rafa, has 2,700 rotations on his forehand. That's about twice the spin of an average club player! Without this amount of spin, the ball cannot be controlled at full speed.
The myth that topspin is only for "pushers" needs to be put to rest.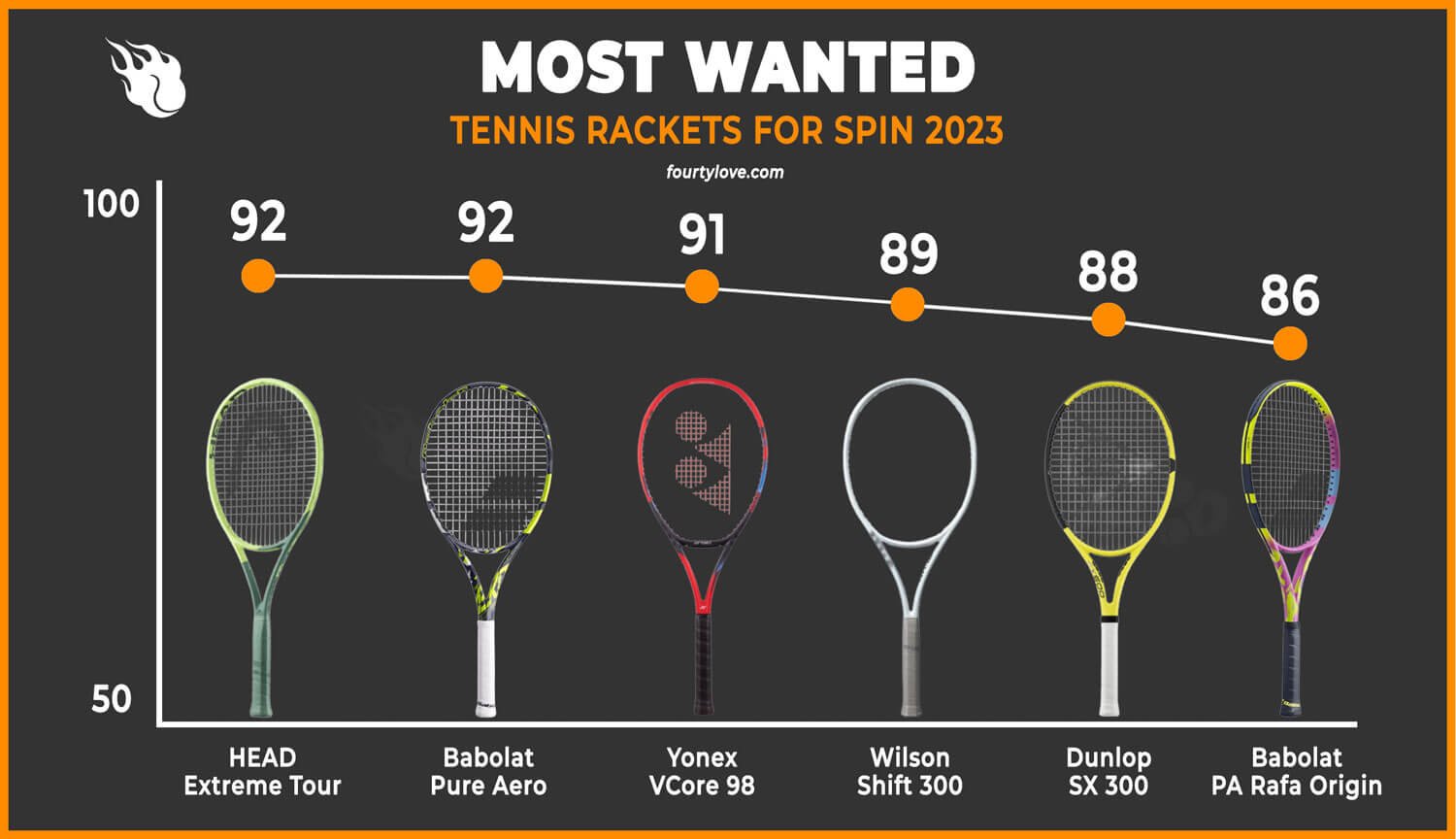 What makes a tennis racket "good for topspin"?
Open string pattern


An open string pattern, meaning more space between the cross and main strings, increases the time the ball spends at the impact point and therefore increases the spin potential. A string ratio of 16×18, meaning 16 main strings and 18 cross strings, opens up the string pattern. Of course, the size of the racket head also plays a role in the density of the string pattern.

Harder string tension


The string tension has no direct but an indirect influence on the spin. A harder string tension creates less trampoline effect, requiring more racket head speed to play the ball deep into the opponent's court. This additional racket head speed allows you to play more topspin.

Lighter racket


The lighter the racket, the faster you can swing it. And when you swing the racket faster, you generate more speed and, if the movement is clearly executed from bottom to top, also more topspin. However, it's important to find the right balance. The racket needs enough swing weight to accelerate the ball. A 150g children's racket won't help you play more topspin, while a 450g racket with lead in the frame won't be helpful either.

Minor details


The type of string, the balance point of the racket, and the stiffness of the frame also affect the spin potential of the ball. However, these three points do not have as much of an effect on spin as the string pattern, string tension, and weight of the racket do.
HEAD Extreme Tour
The spin machine from HEAD for advanced players is the counterpart to the Babolat Pure Aero. The Extreme Auxetic Tour is a very powerful racket with a lot of spin potential. Due to its perfect blend of power, control, and a lot of spin, I believe the Extreme Tour is the best tennis racket for topspin in 2023.
One of the great advantages of the Extreme Tour is how easy it is to play with. The frame forgives off-center hits enormously, which I find very important for a spin racket due to the wiping motion that often leads to off-center hits.
Another advantage of the Tour over all other spin rackets is that it provides the greatest amount of control. The precision that the Tour shows with every stroke, over and over again, actually puts it in the category of "control."
A tip from me: 5 grams of lead at the 12 o'clock position and the Tour unleashes its full potential in my opinion. Significantly more spin and more power.
PRO
Lots of spin
Lots of control
Easy to play
Soft feeling due to Auxetic
CON
none
may be too soft for some players coming from stiff frames with no technology like Auxetic or Graphene
Babolat Pure Aero
The Pure Aero is the racket with the most spin, which is probably well-known. In addition, it also has a lot of power and is only recommended for players who really put a lot of topspin into their shots due to this combination.
The Pure Aero is an absolute legend that you must definitely have played with.
PRO
most amounts of spin
lots of power
CON
less controll if played with less spin
Yonex VCore 98
The new VCore 2023 is incredibly stable on impact and not only delivers a lot of spin, but also a significantly higher launch angle in the new generation.
The VCore 2023 is definitely intended for aggressive players. It is designed for players who want to force their opponents into short balls through spin and high, unpleasant balls, and then come up with aggressive, flat shots.
If you are looking for a modern racket for a spin-focused tennis game, the VCore 98 is a brilliant choice. Some already consider the VCore 98 so good that they describe it as the new "standard for spin." Babolat's Pure Aero has to watch out.
PRO
High launch angle
lots of power
very stable through contact
CON
high launch angle only good for players with lots of spin
Wilson Shift 300
The Wilson Shift is an absolute highlight among the new tennis rackets in 2023.
This is due to its innovative frame shape and geometry, which make it stand out.
With the Shift, you get minimal deformation on contact with the ball and a lot of power in your shots. The racket is very stable, and you get a higher launch angle and more spin.
However, if you have arm problems, you should avoid the racket.
The Shift is especially designed for modern players with topspin and a higher flight curve, but it also works with flat balls, especially with slice.
If you are a beginner, you should not use the racket. But if you are already somewhat advanced and like to play aggressive, flat attacking shots, then the Shift could be just right for you. If you already play with other rackets such as the Babolat Pure Aero, HEAD Extreme (Tour), or Tecnifibre 305, an upgrade to the Shift could definitely be worth it.
But remember, the racket is best suited for players who can generate a decent amount of speed with their swing.
PRO
One of the best rackets for Heavy-Spin Moonballs
very flexible playing style possible due to new racket-bending-technology
CON
stiff frame that can harm your arm
Dunlop SX 300 (2022)
Dunlop is not only a market leader in overpriced Medenspiel balls that either lose their felt or burst after a set, no, Dunlop has been a market leader in tennis rackets in the past years and is constantly improving. One of Dunlop's rackets is an absolute top racket in its category: The SX 300!
The SX 300, with its 100 square inch head and 300 grams, is easy to play with. The racket provides enough control and power and surprisingly has a lot of spin. It is almost as good as the Pure Aero in this regard.
If the racket is a bit too light and/or lacks control for you, there is also the SX 300 Tour, which plays identically to the regular SX 300, except for the 5 grams and slightly smaller head size.
The SX 300 is for the aggressive baseline player who is looking for a racket for spin, that has a bit more power and makes it easier to hit the ball to the baseline.
PRO
lots of power
lots of spin
CON
standard SX 300 is a bit light at higher speeds -> Tour Variant is a good and heavier alternative
Babolat Pure Aero Rafa Origin
A very special racket that will definitely earn some titles on the red clay in the hands of a tournament player.
The Pure Aero Rafa Origin is basically the Pure Aero "on steroids". Everything it does is extreme. The spin, the launch angle, the power.. all significantly amplified by the incredible swing weight of 370 grams (13.05 oz). Unfortunately, the arm problems caused by the Pure Aero Rafa Origin are also extreme for many players.
The only reason why I did not rate the Pure Aero Rafa Origin higher on the list of best rackets for spin is that it is simply too "heavy" to play for most players. Imagine a beginner reading this list and buying the Rafa Origin because it is "the best for spin".. RIP.
If you're physically fit enough to get this racket behind the ball on time with enough speed and like to grind from the baseline, you should definitely check out the Pure Aero Rafa Origin. It could be the best heavy spin racket you'll ever play.
PRO
Incredible racket for maximum spin
heavy spin
Vamos
CON
very heavy with crazy swingweight
not arm-friendly at all
Looking for power? Got something in blue for you!
The best tennis rackets for power in 2023
As you may have already guessed, "power rackets" help you bring more speed and length to your shots without requiring more effort. These tennis rackets are often recommended for beginners or players who are not yet technically advanced.
What makes a powerful and fast racket?
Large racket head


A larger racket head increases the sweet spot and the trampoline effect, but decreases control.

Light racket weight


If you're looking for a racket that helps you hit the ball far into the opponent's court, it should be as light as possible.




Head-heavy balance point


A racket with a head-heavy balance point increases the swing speed.
Babolat Pure Drive
The Pure Drive is the absolute icon among the tennis rackets that stand for power. The blue color of the Pure Drive has now become established with all other racket brands. The Pure Drive is the reason why rackets like the Wilson Ultra or Dunlop FX are blue, so it's simply clear what you're buying.
Pure Drive = Pure Happiness
When you buy a Pure Drive, that's exactly what you get. Absolute drive in every stroke. The Pure Drive is not very easy to control, but it offers extremely good length at low speeds.
You should buy a Pure Drive if you like to dominate the rallies with length and speed. It has enough spin potential, but shines more with its hardly comparable power.
PRO
Incredible amount of Power
good spin
CON
not enough control for some players
Yonex Ezone 98
The Yonex Ezone 98 2022 is the seventh generation in the series and by far the best Ezone ever. Many pros such as Naomi Osaka, Nick Kyrgios, Marton Fucsovics, and Lloyd Harris already use models from the Ezone series. Why? Because they offer a perfect combination of power, spin, and control.
For the 2022 version, Yonex added 2G NAMD SPEED to achieve a stronger response and better feedback. Additionally, the frame construction has been redesigned to provide better stability and a softer feel at impact. The new version feels more stable and controlled than its predecessor while still offering pleasant comfort.
The Ezone 98 is easy to play, has a generous sweet spot, offers good control and a lot of power. It is perfect for aggressive players who want to target the net while maintaining control. Although the swingweight is low, it offers amazing stability and is perfect for attacking short balls.
Overall, the Yonex Ezone 98 is an excellent tennis racket that offers a winning combination of power and control.
PRO
good mix of Power and Control
easier to hit due to big sweetspot
Dunlop FX 500 V2
The new Dunlop FX 500 V2 (2023) is a fantastic update to its predecessor and comes with almost as much power as the Pure Drive.
It plays much softer and finally takes more care of your arm. That was the major criticism of the FX 500 predecessor.
The ball's launch angle is not particularly high, which definitely makes the racket a good weapon for aggressive players.
If you want a little less power and more control and still want to play with Dunlop, the FX 500 Tour V2 is the right racket for you.
PRO
lots of power
good control
low launch angle
huge amount of ball-pocketing
arm-friendly
Wilson Ultra 100 V4
The Ultra 100 is Wilson's answer to the Babolat Pure Drive, as can be seen from its blue color.
It is probably the easiest racket to play with in the power category and has the largest sweet spot among all the rackets.
The Ultra 100 V4 also has a high power level and requires little effort for good length. The launch angle is slightly higher, and players who already have high swing speeds need to be careful not to hit the ball too far on second serves and attacking shots from the T.
Compared to the V3, the ball stays on the strings longer and is much easier to control, even though it has a high RA value of 73. Overall, a very good update!
PRO
Best power racket for players who want to leave the beginner level
lots of power
arm-friendly
unique feel due to the new Fortyfive technology
easy to play due to large sweet spot
CON
a bit too light for better players
Baseline-Grinder and Volley God with Alcaraz forehand?
The Best All-Around Tennis Rackets
The best rackets that perform well in all categories. They are ideal for almost any type of player, whether particularly aggressive or defensive.
With a good all-around racket, you can defend well and act with a lot of spin, but also attack and sink solid volleys.
You will find almost every racket on this list in tournaments or team matches.
HEAD Radical MP
The HEAD Radical MP is the racket for players who feel comfortable all over the court, also known as "the people's racket" by HEAD.
It has enough power for high-level play, but also provides incredible control for intermediate players. The Radical MP is a great choice for baseline grinders who like to play with a lot of spin and height on red clay.
It generates a lot of spin for both defense and offense. However, unlike spin-oriented rackets, the Radical MP can be used very effectively without relying on spin.
The new Auxetic technology is now available in the Radical, and it plays similarly to the new Gravity when paired with the new frame.
If you want more control and can sacrifice some power, the Radical Pro is a good option. However, the MP is the best-seller of the Radical series for a reason.
PRO
Best all-round racket for every type of player
Very much control
lots of spin
very pleasant feeling in the hit due to Auxetic
direct feedback, little ball pocketing
CON
2023 version slightly less arm friendly
Tecnifibre T-Fight ISO 305
The T-Fight 305 is extremely forgiving for errors. Hits outside of the sweet spot feel almost as good as if they were hit in the center.
The only negative aspect of the T-Fight that I found is the grip. Unfortunately, it is very angularly shaped and does not sit properly (for me). Especially for players with a modern grip, such as semi-western or western, I recommend taking one grip size less and using one or two overgrips. This will round off the grip.
PRO
Ingenious all-round racket
Very much control due to extremely high stability
high swing weight
huge sweet spot for a 98 frame
CON
Handle is shaped a little more angular -> take smaller grip size
HEAD Speed MP
The Speed series from HEAD is the bestseller for the Austrian racket manufacturer and now finally has Auxetic installed.
The Speed MP is more suitable for advanced players or tournament players. The playing style that best suits the Pro is an aggressive baseliner who likes to come to the net, operates with a normal amount of topspin and has no problem playing from a defensive position. So, it's basically the definition of an all-rounder.
Compared to the Radical MP, the Speed MP has significantly more power and is more designed for aggressive players.
If you are familiar with tennis rackets, I would describe the HEAD Speed MP as a fusion of the Gravity Pro and Pure Aero VS. It has enough power so that you don't have to do too much yourself, but it brings a very soft and controlled feel from the Gravity Pro.
If you are very comfortable with the Speed MP but need even more precision, or if you have a very high swing speed and don't need the power of the MP, the Speed Pro this year is a good choice.
PRO
Good all-rounder with a bit more power
much control despite a little more power
very soft and damped feel due to Auxetic
CON
Feels significantly lighter than 305g -> Test the Pro variant
Translated to German while keeping the HTML tags:
Wilson Blade 98 16×19 V8
Eine absolute Legende unter den Tennisschlägern und ein Bestseller für Wilson seit Ewigkeiten: Der Wilson Blade 98. Mit der mittlerweile achten Version in der 16×19 Variante, bekommst du einen Schläger, der sehr gut aus der Offensive und Defensive funktioniert. Er hat genug Spin für Schläge, die einfach lang ins Feld müssen aber hat auch genug Power, um den Ballwechsel zu beenden, wenn du aufrücken kannst.
Der neue Blade V8 hat die Fortyfive-Technologie verbaut, die wir schon seit einiger Zeit im Wilson Clash gesehen haben. Der Schläger fühlt sich damit im Treffer deutlich weicher an und schont den Arm mehr als der Vorgänger.
Der neue Blade 98 hat ein niedrigeres Schwunggewicht als sein Vorgänger, lässt dich dadurch leichter bewegen und schneller schwingen, erzeugt aber leider etwas weniger Power. Falls du auf der Suche nach dem "Blade"- Gefühl bist und mehr Power willst, rate ich dir zum Blade 16×19 V7.
Falls du das "Blade"-Gefühl mit mehr Kontrolle suchst, gibt es eine 18×20 Variante, die auch sehr beliebt ist.
PRO
Lots of Control
more arm-friendly than the predecessor due to FORTYFIVE
CON
slightly less power than the predecessor
Finally, grab hold of your life (on the Tennis Court)
The Best Rackets for Control in 2023
A tennis racket in the "Control" category gives you exactly what you put into your shot.
No power or spin is "artificially" added.
While most tennis players look for rackets that support them with spin or power, there are also the rare to find Purists.
These freaks want to blame every mistake on themselves and not on the racket.
What makes a tennis racket "good for control"?
Thin frame


When a ball hits a racket, energy is transferred to the frame, which then starts to swing. The larger the mass of the frame, the more energy it takes to set the frame in motion. Therefore, a thicker frame can cause some of the swing energy to be lost and a player to have less control over the ball. Conversely, a thinner frame creates more control because it has a lower mass and higher stiffness than a thicker frame.

Soft frame A racket with a soft frame increases precision by deforming at the point of impact and reducing the trampoline effect. Frame stiffness is measured by the RA value. A racket is considered "soft" with an RA value of less than 70.
Heavy racket weight A heavier racket moves more controllably and stably through the point of impact, enabling repeatable swings.
Handle-weighted balance A racket whose balance point is oriented more towards the handle increases control in the swing.
HEAD Prestige Pro (Auxetic)
The legend of HEAD, the Prestige! The new Prestige Pro with Auxetic is a successful evolution, feeling much crisper and more modern than the traditional, soft Prestige that we all know from the past.
HEAD has redistributed the 320g weight over the past few years. A large portion of the weight from the heart has been distributed to the head and grip. This makes the Prestige Pro feel faster, yet more stable. The 20mm wide beam and dense 18×20 string pattern naturally support this stability.
But one buys a Prestige for two very specific reasons, and that's because of precision and feel. If the Prestige can do one thing, it's that! During testing, it took only five minutes and the feeling of total control overcame us. It feels as though one could predict exactly where the ball will land in the millisecond of impact. A great feeling and the reason why Prestige players typically remain Prestige players.
However, the incredible control and touch required presuppose years of training. The Prestige is a racquet for technically advanced players who generate enough power on their own, as that's the only "downside" of the Prestige. It's essentially a multiplier for good technique and clean shots, so it can mean a huge improvement for some players. But if you multiply something by 0.7, you get less, not more.
HEAD has intervened precisely here and brought a racquet onto the market with a total of 5 Prestige variations for almost every advanced player, and is trying to make the decision easier with the CPI value. CPI stands for Control Power Index, with the lowest number 100 for the most control and the highest number 1000 for the most power. The Prestige Pro has a CPI of 200 (which in my humble opinion should actually be 100).
I personally think that the Prestige is the best-looking racquet from HEAD. The continuously black frame with the dark red highlights is an absolute beauty and stands out with a timeless design.
If you're an experienced player with good technique and want to go all out without losing control, the Prestige could be your racquet for the next few years! Especially the MP and Pro are among the best tennis racquets for control in 2023 for very good players.
PRO
Insane Control
Makes good players even better
very stabil at high speeds
CON
Turns bad players into even worse ones
unplayable for beginners and even intermediates
Wilson Pro Staff v14
The new "Paradigm Bending" technology slightly improves the feel of the shots, but otherwise there are few changes from the previous version.
The design of the Pro Staff v14 is very polarizing. Wilson has opted for a dark brown-orange tone that is meant to be reminiscent of the company's original colors.
The feel of the groundstrokes is incredibly good, as expected from Pro Staffs.
The ball stays on the strings for a long time and I felt like I had absolute control over the ball. However, the ball also came out of the racket very flat, which is due to the low spin potential. The flat forehands with less spin, however, felt incredibly good with the v14.
The extreme precision is particularly evident in the volleys. The racket is very stable at the point of impact and is really fun at the net.
Finally, there is a Pro Staff for us mere mortal tennis players that is not just 30 grams lighter, but simply has a slightly larger racket head. So if you don't consider yourself an advanced tournament player but still want to feel the "Pro Staff" vibe, why not try out the new Pro Staff X.
PRO
"Pro Staff" – feeling for everyone when choosing the "X"
insanely good control when struck well
design looks great (for some :P)
CON
design is not as minimal as last version
HEAD Gravity Pro
As one of the first to test and see the final design of the Gravity at an exclusive HEAD event in Mallorca, I can say that the two-sided paint job is gone, and the new Gravity 2023 Auxetic is mostly black.
The Gravity series is designed for modern players who like to stick to the baseline and hit powerful shots, but it also has a very classic "touch". It impresses with great stability even at high speeds and feels buttery soft with a frame hardness of 62RA.
With a swing weight of an incredible 332, the Gravity Pro is even more powerful than the Speed Pro without making the frame stiffer! The result is, of course, a high level of comfort despite very powerful shots.
The Gravity Pro is a great racket for players who want absolute control over their ball but still expect a little help from the frame for additional power.
The balance between control and power is excellent, making it an excellent choice for players looking for a Prestige with more power.
PRO
Lots of control with some power
Pro version seems to be one of the best options for very good players without customizing
very easy on the arm
Yonex VCore Pro 97D
The VCore Pro 97D has a tight 18×20 string pattern that makes it almost impossible to hit the ball too long. The soft flexibility of 61RA maximizes dwell time, feel, and control.
The power is great, but it really doesn't forgive mistakes.
Playing with topspin can be difficult as the low launch angle makes it hard to hit long balls.
So if you have a very aggressive and flat swing, the VCore Pro 97D is a great alternative to the Prestige or ProStaff.
The swing weight was increased on all 97 models except the 100 model. In some cases, this is positive, in others it's a bit too much. So if you have a high swing speed, the VCore Pro 97D is probably not a problem, if you're a bit slower, just leave out the "D."
In summary, the new Yonex VCORE Pro 97D is very comfortable to play with and offers a huge amount of control and power for the right player, but it is really only the right choice for a few selected players.
PRO
lots of Control
lots of Power at higher speeds
CON
if too heavy -> VCore Pro 97 (without the "D")
Babolat Pure Aero 98
The Pure Aero 98 is the control version of the regular Pure Aero. It feels most comfortable when played with a lot of spin like its best-selling counterpart, but is intended for players who want to take the next step. Very good tournament players benefit from the very good precision without sacrificing much spin or power.
If you love the Pure Aero but want to play more aggressively and also go to the net (like Carlos Alcaraz), the Pure Aero 98 is just the thing.
Due to the flat launch angle, however, you should have a high swing speed so that the balls also get good length.
PRO
Lots of Control with lots of Spin
Improvement to the predecessor in every aspect
CON
requires high swing speed to work well
Tecnifibre TF40 305 18X20
Wenn es einen Schlägerhersteller gibt, den man nicht unterschätzen sollte, dann ist es mittlerweile Tecnifibre. Die TF40 und T-Fight Serien gehören zu den absoluten Top-Schlägern in ihren Kategorien und sollten auf jeden Fall getestet werden!
Der TF40 spielt sich wie der Blade 18×20 V8, also wie ein Allrounder mit mehr Fokus auf Kontrolle.
Überraschenderweise hat der TF40 aber deutlich mehr Spin, als die technischen Details vermuten lassen. Es ist sehr einfach mit ihm viel Spin zu erzeugen, aber auch mit flachen Angriffsbällen nach vorne zu kommen um dann mit einer der großen Stärken des TF40, den Volleys, den Punkt zu beenden.
Ich würde defenitiv nur zur 305-Variante raten. Die 10 Gramm schwerere 315-Variante hat ein sehr geringes Schwunggewicht, da der Balancepunkt verschoben ist und spielt sich trotz mehr Gewicht nicht so kontrolliert wie die leichtere Version.
PRO
Lots of Control with spin
arm-friendly
great Control-Racket for heavy spin on defense and flat fast balls on offense
CON
little less power than I hoped for
Dunlop CX 200 Tour 18×20
The CX 200 Tour by Dunlop is a control-oriented racket for aggressive players with flat shots who want to approach the net with precision and end the point there. It is quick and stable at the net and offers precision, a good slice, and a reasonable sweet spot size even for such a small head size.
The CX 200 Tour comes with a very low swing weight of only 306 grams and practically begs to be customized with lead tape according to your needs.
PRO
lots of Control
enough room to customize
very arm-friendly
CON
swingweight may be too light -> try tour version
Folgende Eigenschaften machen einen Schläger armschonend und genau das richtige Mittel gegen einen Tennisarm:
Schwerer Schläger bei langer Schwungbewegung


Ein etwas schwerer Schläger hilft dir bei einer langen Ausholbewegung die Vibrationen des Aufpralls zu absorbieren.

Großer Schlägerkopf


Durch einen größeren Schlägerkopf erhöht sich die Chance, den Ball im Sweetspot zu treffen. Ein Treffer im Sweetspot setzt deinen Arm weniger Vibrationen aus.

Offenes Saitenbild


Der Ball taucht beim offenen Saitenbild mehr in die Saite ein. Dadurch wird ein großer Teil des Aufpralls gestoppt.

Weicher Rahmen


Ein weicher Rahmen verformt sich im Treffer und lässt weniger Übertragung der Vibrationen auf deinen Arm zu. Eine Rahmenhärte (RA-Wert) von weniger als 60 sind das, was du suchst, wenn du einen Tennisarm vermeiden willst. 

Dünner Rahmen
Ein Rahmen der dünner als 23 mm ist, wird so gut wie immer "weich" sein und gegen deinen Tennisarm helfen. Der Wilson Clash ist eine absolute Ausnahme mit seinem fast 25mm dicken Rahmen und sehr weichem RA-Wert von 55.
The following properties make a racquet arm-friendly and just the right remedy against a tennis elbow:
Heavy racquet with long swing motion


An slightly heavier racquet helps you absorb the vibrations of the impact during a long swing motion.

Large racquet head


A larger racquet head increases the chances of hitting the ball in the sweet spot. Hitting the ball in the sweet spot exposes your arm to fewer vibrations.

Open string pattern


The ball sinks into the string bed more with an open string pattern. This stops a large portion of the impact.

Soft frame


A soft frame deforms upon impact, allowing less transfer of vibrations to your arm. A frame hardness (RA value) of less than 60 is what you're looking for if you want to avoid tennis elbow.

Thin frame
A frame thinner than 23mm will almost always be "soft" and help against your tennis elbow. The Wilson Clash is a notable exception with its almost 25mm thick frame and very soft RA value of 55.
Wilson Clash 100 V2
The Wilson Clash series stands out for its modern playability in terms of spin, power, and maneuverability, as well as a very flexible frame and a soft feel.
The Wilson Clash 100 V2 has been slightly improved and the frame feels slightly more stable on impact. The sweet spot has been enlarged, and the FreeFlex technology is now called FortyFive.
The Clash 100 V2 is a good all-rounder that excels particularly in arm protection. The frame is very soft, and the technologies that Wilson has incorporated into the Clash allow for minimal vibrations to reach your arm.
The Clash is suitable for beginners and advanced players who are looking for a soft and somewhat cushioned feel in a modern and easy-to-handle racket.
If you are looking for the advanced version of the Clash, the Wilson Clash 100 V2 is a good choice and is still very arm-friendly.
PRO
extremely arm-frienldy
nice allround racket with some extra spin
HEAD Gravity MP
The Gravity MP plays similarly to the Gravity Pro mentioned above but is slightly more powerful and easier to play with.
All Gravity rackets are extremely soft, making them very arm-friendly. I have selected the MP version here as a good arm-friendly racket because the larger head size leads to more hits in the sweet spot.
PRO
very arm-friendly due to very low RA-Value
Lots of control with some extra power
Prince Phantom 100x 18×20
The Prince Phantom 100X 18×20 is a tennis racket that is ideal for players who desire a combination of control and a very comfortable feel. It is arm-friendly, and the 18×20 string pattern provides additional control, while the slightly thicker frame profile gives the racket more stability, resulting in increased power.
With a weight of 320g, it is not suitable for casual players but rather for tournament players or those who spend a lot of time on the court.
The racket's flexible feel reduces strain on the arm and wrist.
Overall, the Prince Phantom 100X 18×20 is a good racket with a focus on control and slightly more power than the other arm-friendly rackets on this list.
PRO
very arm-friendly
lots of control with a little bit of extra power
CON
not really an improvement to the predecessor -> maybe go and buy the older version and save some money
ProKennex Kinetic Black Ace
A relatively unknown tennis racket brand, but one that has been preventing pain for tennis players for years: ProKennex. The Kinetic Black Ace series is especially known for extremely soft and arm-friendly frames.
The Black Ace plays very similarly to the Pro Staff X, while the Black Ace Pro is similar to the Pro Staff 97. It is very focused on control and adds only little power and spin, but certainly keeps the tennis arm at bay (at least one arm's length away).
PRO
extremely arm-friendly
good amount of control
Pink?
The Best Rackets for Women in 2023
So far, there are only a few rackets that are specifically designed and marketed for women. However, I will try to list the best ones here, taking into account the weight and aesthetics.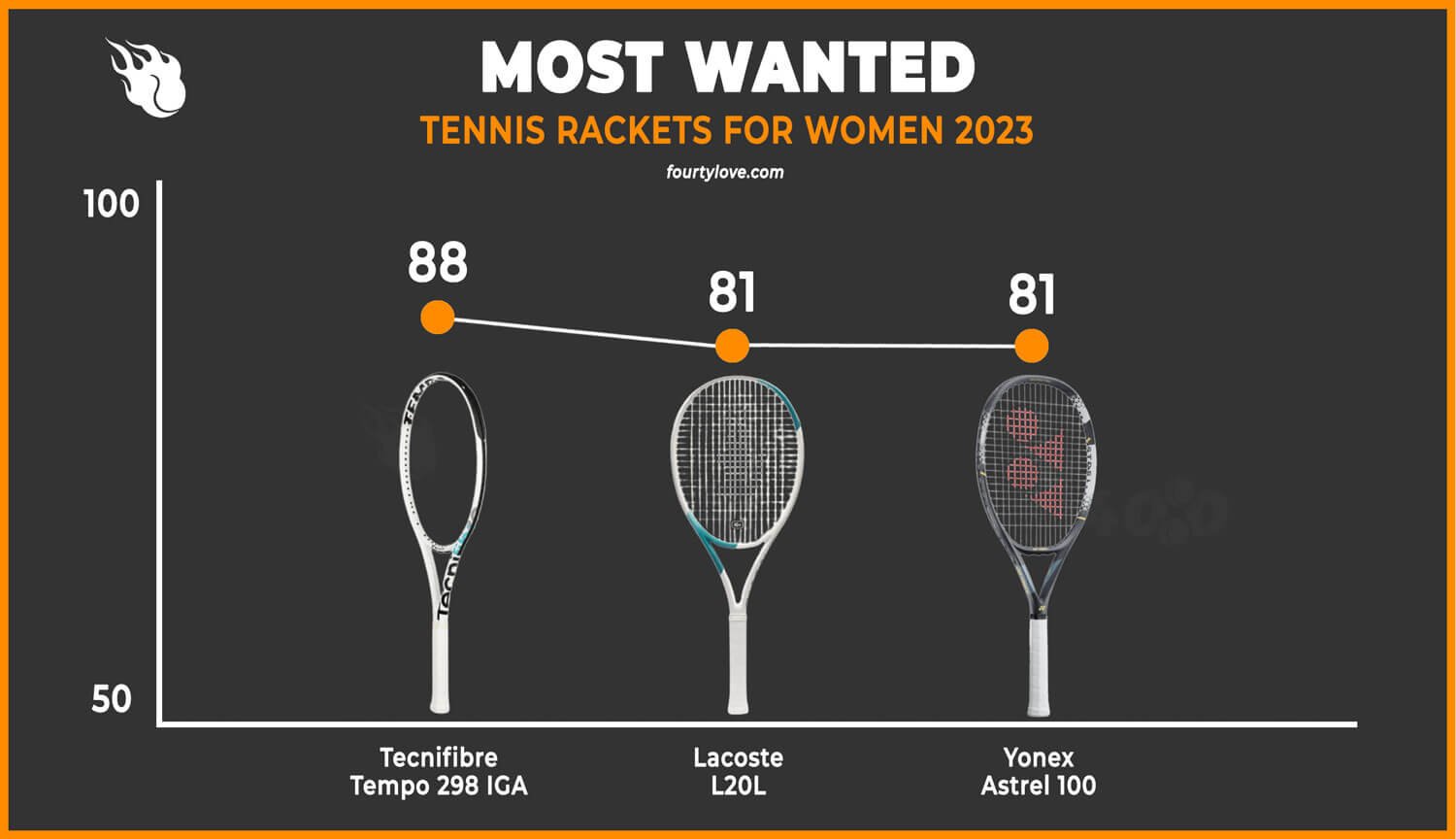 Technifibre Tempo 298 IGA
Tecnifibre has renamed the T-Rebound 298 Iga to Tempo 298 Iga. However, the specifications of the racket remain the same.
The Tempo 298 Iga is a fast and powerful racket for advanced female players who can generate enough spin to keep the ball in play. Despite its high stiffness rating (71 strung), the racket does not feel uncomfortable.
The specifications of the racket are unchanged, with a head size of 98 square inches, a length of 27 inches, a weight of 312 g strung, a balance of 32.99 cm, and a racket head speed of 319.
The Tecnifibre Tempo 298 Iga is a good racket for players who like to play with a lot of spin and aggression, and it is a good alternative to other rackets such as the Babolat Aero VS, Dunlop SX 300 Tour, and Yonex Vcore 98.
PRO
good mix with extra power and spin
still very good amounts of control
Lacoste L20L
Lacoste is not a brand that is typically associated with tennis rackets these days. However, they have recently released a racket called the Lacoste L20.
The Lacoste L20L is a racket that was developed in collaboration with Tecnifibre. Lacoste acquired Tecnifibre in 2017 and is now influencing the design of the rackets, as can be seen in the predominantly white, red and blue rackets.
Most of you know that René Lacoste was a tennis player. In the 1920s, he won seven Grand Slam titles and was nicknamed "the Crocodile" after his playing style.
Specifications and Technology
The L20 tennis racket is aimed at club-level players. It features the famous anti-vibration system invented by René Lacoste – where 40g of steel are embedded in an elastomeric material. The unstrung specifications are:
This racket is relatively light and easy to move.
How does it play?
The racket feels quick and comfortable. Perfect for most beginners with a large sweet spot, soft feedback and easy power.
Well-damped, easy to swing, extra power.
The slightly different design of the racket appeals to me!
Yonex ASTREL 100
This racket is ideal for advanced recreational players who are looking for a lightweight racket for maximum control and power on the court. With React-Resin technology, the graphite material is impregnated with a lightweight and flexible material, making the ASTREL 100 more flexible and comfortable than traditional game-improvement rackets.
Yonex takes comfort seriously and has integrated the Tri-Shut system into the ASTREL 100. This system consists of Vibslayer Carbon, Shock-less Grommets, and Vibration Dampening Mesh (VDM), which all work together to reduce unwanted vibrations. VDM is a stretchable mesh material that wraps around the graphite in the grip and provides you with a more comfortable grip during play. In addition, the Astrel 100 features Yonex's Ergo Power Grip, which provides a larger grip at the bottom end and a thinner grip at the top end of the handle to allow more contact with your hand for better access to power.
With a 100 square inch isometric head shape, the ASTREL 100's sweet spot is enlarged, and the open 16×18 string pattern makes it easier to generate spin. While the beam is slightly thicker at 25.5/27.5/24mm, the unstrung weight of only 9.9 ounces ensures that the ASTREL is very maneuverable.
All in all, the Yonex ASTREL 100 is an excellent choice for players who prioritize comfort, power, and stability in a very maneuverable package.
PRO
very easy to play
lots of power
very light
CON
Only good for players at the club level. Too light for better players. -> try the 105
Playing tennis for four hours every day is no longer possible? Maybe it's the racket (and a little bit due to age).
The best tennis rackets for seniors
For everyone, there comes a time when the racket head needs to be bigger, the racket weight needs to be lighter, and the frame needs to be thicker. And it doesn't matter if you were once the best player in the world or just played at the bar.
HEAD TI S6
The Head Ti S6 is basically THE tennis racket for beginners and advanced players in the senior age range, with unbelievable statistics. If you're wondering "which tennis racket is probably the best-selling from Head?", you might immediately think of the heavily marketed rackets like the Speed or Prestige, but that's not correct.
THE BEST-SELLING TENNIS RACKET FROM HEAD SINCE 1997!
This racket is one of the lightest on the market at 8 ounces and a little longer at 27.5 inches. The titanium material makes the racket very stiff and powerful in all shots. The ShockStop system is designed for tennis players with arm problems and absorbs a huge portion of the vibrations.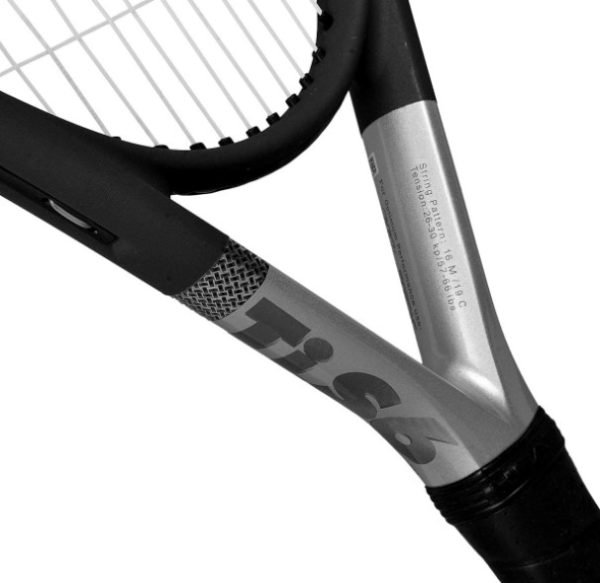 The oversize head with 115 square inches is ideal for beginners as well as seniors at an advanced level. Due to the very large sweet spot, it is much easier to hit the ball with the racket in the right spot. The Head Ti S6 is the best tennis racket for seniors or older players looking for a lighter racket in 2023. As a small bonus, the unbeatable price of this racket also comes into play, making it one of the most affordable tennis rackets.
PRO
Very good price despite great quality
Very light with good power
Bestseller for older tennis players for decades
CON
Not good for older players with high swingspeed. Racket is too light and the headsize too big. -> Go for the Clash 100L V2
Wilson Clash V2 100L
I have already mentioned the Wilson Clash V2 in the "arm-friendly" category. The 100L version provides even more arm protection and a larger sweet spot, as well as more power.
Perfect for older players who need more support from their racket. However, the Clash V2 100L is not a "pusher" racket and can still be used for very good tennis.
PRO
lots of power
arm-friendly
great racket for seniors that still play on a high level
Life is already getting more expensive…
The best budget rackets of 2023
Not every tennis racket has to cost over $200. Nowadays, there are enough rackets that offer high-quality and can match the performance of flagship rackets.
I'm listing here some rackets that have excellent quality and belong to the top models of racket manufacturers, but are simply a bit cheaper. Additionally, I'm listing cheap tennis rackets that don't have the same quality as the top models, but are only a fraction of the price of top models.
An additional tip:
When a new racket model is released, the price of the old model drops by 30-50% within a short time.
Wilson Burn 100 V5
Brand new (hehe) and already available for under $200. The Wilson Burn V5 is my second best value for money racket.
The Wilson Burn V5 is a new tennis racket that offers a good combination of power, spin and playability. It is cheaper than some of the other new rackets from Wilson and has a high RA value.
The Wilson Burn 100 V5 has the expected specifications for a power/spin racket and is a solid option for advanced players.
The Burn family also includes lighter options such as the Burn 100 LS or the Burn 100 ULS, and for players looking for more power and spin, there is the Wilson Burn 100S V5, which has a more open string pattern and slightly more weight.
PRO
Lots of power and spin
current version often costs 120$ less than other top-models
Wilson Pro Open
The Wilson Pro Open is modeled after the classic BLX and performs well in all categories.
However, you can notice the price, which is under 100€, as the racket does not feel and play as high-quality as other top rackets. I have been playing with the "top models" of racket manufacturers for 20 years, so maybe I am just overly sensitive in this regard.
With the Pro Open, you can play aggressively, have control, and generate a lot of spin. If the goal is to get a decent and new racket for little money, the Wilson Pro Open is a good choice.
PRO
solid allrounder for such a good price
under 100$
CON
quality is not comparable to the one of top-models
Wilson Blade Feel RXT 105
The Blade Feel RXT plays like a Blade with a slightly larger head, just in… how do I put it nicely… "budget-friendly"?
If you order the Wilson Blade on Wish…
Still, for the price, it's a great choice!
PRO
good allrounder for a good price
under 100$
CON
quality much worse than the one of top-models
Was du über deinen persönlich besten Tennisschläger für 2023 wissen solltest:
Racket Head Size

The head size of the racket describes the size of the area within which the strings are located. The size is a major factor in the power that is transferred to the ball through your swing. A larger head enables more power transfer and a larger sweet spot. A smaller head, on the other hand, transfers less power, which is not important for very good players, as they have enough power through their good technique, but they use the smaller racket head for its better control.

Racket Length

The length of a racket strongly influences its maneuverability. A longer racket feels heavier when swinging, but increases the swing weight and extends the reach. For example, when serving, the extra two centimeters can be helpful. The standard racket length is 27 inches (68.58cm), while the maximum allowed length of a tennis racket is 29 inches (73.66cm).

Racket Weight

Heavier rackets have more mass, transfer more power to the ball, and remain more stable when going through the ball. However, this does not mean that lighter rackets lack power! A higher weight helps the racket to stay more stable at the point of contact, without being moved by the ball.

Balance

Although some rackets may have the same weight, they feel different due to the weight distribution. Some rackets have more weight at the head, while others have more weight at the grip. To find out which weight distribution suits you better, you should simply bring two rackets to your next training session and switch every few minutes.
Many professional players choose the grip-heavy weight distribution, as this improves maneuverability and very good players do not rely on a heavy racket head to generate power.
Head-heavy rackets feel lighter and transfer more energy to the ball. Due to the high weight at the head and the low weight at the grip, these rackets tend to give off a lot of vibration. Therefore, you should look for arm-friendly technology.

Stiffness / RA-Value

The stiffness of a frame describes the degree of deformation upon impact of the ball on the string. Manufacturers' materials are becoming more and more advanced (Babolat's viscoelastic rubber is used in aerospace), and they are now able to produce very light rackets. However, to withstand the stresses of a tennis game, a certain level of stiffness is necessary for a lightweight racket. The stiffer the frame, the more transfer of energy to the ball.

String Pattern

The string pattern describes the number of cross and main strings of the racket. A tighter string pattern provides more control, while a more open string pattern provides more spin by allowing more movement of the strings and thereby more friction, leading to more string wear.

Grip

Modern rackets have handles that absorb a lot of vibration and improve comfort. Additionally, each player has individual preferences regarding the size of the grip.
Which Tennis Racket is the best for advanced players?
For most advanced players, the HEAD Radical MP is an excellent choice. Regardless of playing style, the Radical MP will work well for most players as it is the best all-rounder.

Which is the best tennis racket for seniors?
The HEAD Ti S6 is a great choice for seniors who are looking for a tennis racket that is easy to maneuver, has a large head size, is arm-friendly, yet still provides enough power for all strokes.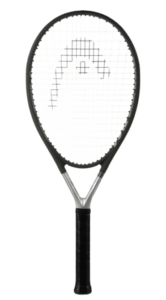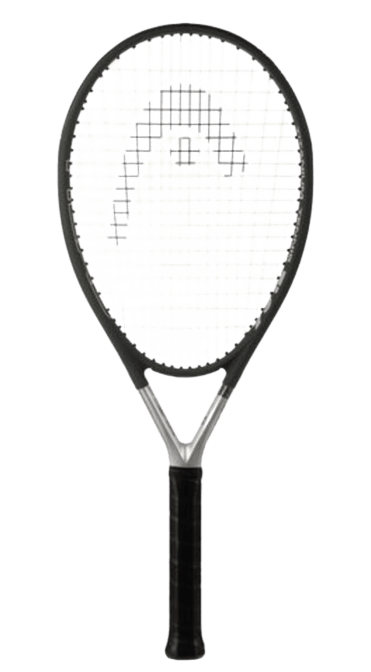 Which Tennis Racket is best for kids / children / juniors?
We recommend the Wilson Roger Federer 25 junior racket. Please read all the other details about the best tennis rackets for beginners in my guide, as there are many factors to consider.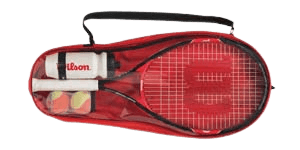 Which Tennis Racket is the best for spin?
The absolute best tennis racket for players who generate a lot of spin is the HEAD Extreme Tour. A very good alternative from Babolat is the Pure Aero, which generates even more spin.


How do I find the best tennis racket for me?
Take enough time when searching for your new tennis racket! Each racket is different and has advantages and disadvantages for different types of players.
If you play a lot of tennis and enjoy spending time on the tennis court, it is really essential that you take enough time when choosing your racket. A racket from big brands such as Wilson, Head, or Babolat will always be worth it! The high-quality materials allow for long-term use of the racket even with frequent play.
The technical differences of the different rackets allow you to say some things about the racket even before you've picked it up. Try out a few rackets that match the type of tennis you want to play.
Once you have found the best tennis racket for you, you should take care of the grip size. For men, a grip size of 2 or 3 is very common, especially larger players with hands like John Isner prefer grip size 4 (or 10?). The right grip size is not only important, but also bad for your tennis, and we don't want that.
And now? Play, play, play. Occasionally go to sleep, but then play again! There is no better method to find your personal best tennis racket. This was true in 1999, it is true in 2023, and it will still be true in 2025!
Of course, you can also ask me any questions about my list of the best tennis rackets 2023 in the comments. I'm happy to assist you.