When Wilson released the first Pro Staff back in 1983 (37 years ago!) it was pretty clear that it's going to be something special being the first tennis racket made completely from graphite. In case you don't know this is how it looked check out the history section coming next.
This article has affiliate links, which means I receive compensation if you purchase a product through this link. There are no additional costs for you. It helps me continuing this blog. Thanks for your support! Visit my disclosure page for more information. Amazon and the Amazon logo are trademarks of Amazon.com, Inc. or its affiliates
HISTORY
The original Pro Staff was a black frame with red and yellow pinstripes and went a long way with its 13th version coming out in September. If you add all the Grand Slam titles won by a Pro Staff you get 117. 20 by Roger Federer who played the Pro Staff his entire career. But Roger is not the only good player who has won with a Pro Staff. This amazing racket was the weapon of choice for Pete Sampras, Steffi Graf, Stefan Edberg, Jim Courier, Chris Evert.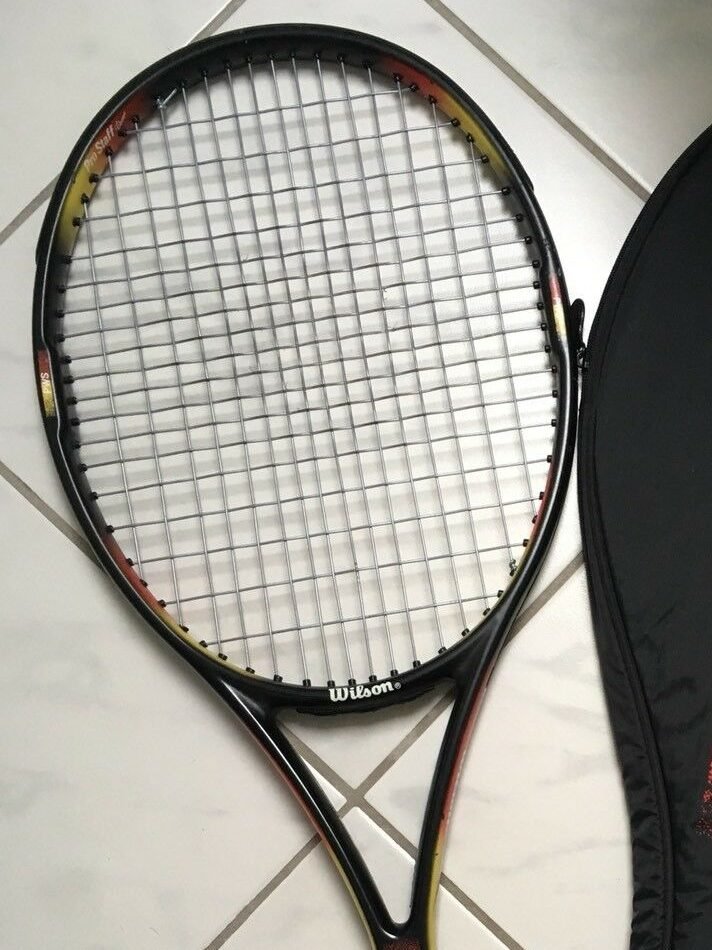 DESIGN
All black with some minor details. It is beautiful! Perhaps most appealing for longtime fans of the Pro Staff franchise is the presence of red and yellow pinstripes along the throat, an ode to previous designs of this iconic series through the years. Design also features unique exposed carbon fiber weave with gloss finish above the 3 & 9 of the frame for a slick touch. Check out this beauty:
SPECS
The new Pro Staff 97 v13 comes in 3 different Versions: Pro Staff 97 v13, Pro Staff 97L v13 and Pro Staff 97RF v13.
STANDARD VERSION
The standard version of the Pro Staff 97 v13 comes with a new Braid 45 construction which changes how the double braided fibers are angled to give you more precision, feel and stability. The strings are a bit more dense for more control which is a really great improvement looking back at the older Pro Staff versions. I don't know that Wilson changed at the grip exactly but the new Wilson end cap gives me a better feeling the swinging the racket. This is very important for me since I like to grip my rackets really far down.
RF Version
The personal racket of the majestro Roger Federer doesn't come with big changes. It's keeping its sleek design and of course features the RF signature.
LIGHT VERSION
If you want to have the control and feel from a Pro Staff but need a frame that is easier to move the Pro Staff 97L v13 is here for you! It also comes with Braid 45 increasing precision and improves the ball pocketing feel.
RELEASE DATE
Wilson releases the new Pro Staff 97 v13 on the 14th September for their mail-subscribers (Wilson Insiders) and on the 28th September for everyone else globally. So if you want to get the racket as soon as possible subscribe here: